5 Effective Ways to Reduce Bounce Rates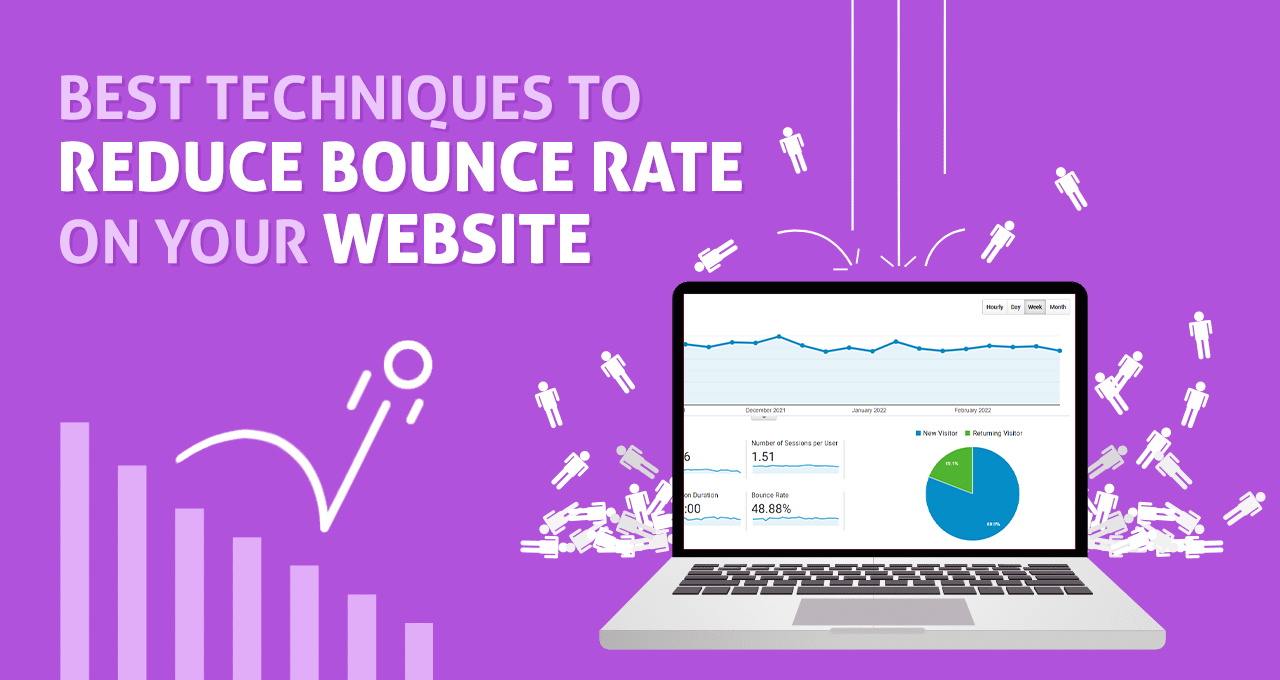 Bounce rate is a metric which indicates how well your particular web page is performing. Usually, high bounce rate is indicative of low performance but bounce rate must always be analyzed in proper context.
Websites usually have 26% to 70% bounce rates (Rocket fuel study). And sometimes too low bounce rate (below 26%) can be a problem too, as it indicates that your user is not following the next clear logical step.
Your website may not perform as you would have liked due to so many issues. These issues might be related to visual design, copywriting design or simply not understanding the users' needs clearly.
A golden rule to be kept in mind: A successful page meets a need
Let's understand where you actually need a high bounce rate. Suppose your web page is designed for giving information related to weather. Or your web page has just a call-to-action button to download an eBook with little description of that eBook. In all these cases, the user needs only 30 to 40 seconds to complete his need/purpose.
Perform A/B testing and other usability tests to empirically check whether high bounce rate is an issue or not.
1. Make Your Web Copy Brilliant
Design your headings and subheadings with great care. Use lists, bold and italics to highlight the crucial aspects of your web copy. Use short paragraphs to capture the low attention spans. Sometimes even an incorrect font size can lead to high bounce rates.
A high percentage of web users scan the copy rather than reading in a traditional way. So, proper formatting will make your web copy scannable.
2. Don't Ever Mislead Your Audience
Always provide accurate titles and meta descriptions. Design in a way that google can create a snippet for your content. These practices build authenticity and show search algorithms that you are striving hard to create content that meets the user's needs.
If you don't create titles and meta descriptions which don't fit well according to Google's algorithms, these algorithms will automatically create content for these tags.
3. Respect User's Time
No one likes to wait, especially when they want to get some urgent information, book tickets, etc. Therefore, your website should load fast. Site speed is a crucial part of Google's ranking algorithms.
Don't unnecessarily add high graphics, videos or other interactive elements if they are not important to meet the user's needs. Check whether third party scripts are slowing down the site speed or not.
4. Avoid Negative Social Proof
If you put a lot of social media tags on your content and for some reason your audience is not using them to share your content, then that leads to negative social proof. This also leads to low performance of your web content.
Again, the rule is to design content and add elements which serve the purpose. Be a ruthless editor to design brilliant content.
5. Ensure Quality User Experience
Your web page should provide high quality experience to the users. Make sure your website doesn't show too many ads, pop-ups, don't force your users to subscribe to your newsletters when they are doing some important tasks on your website. Your website must be easy to navigate. Always place the most important element for which the user is on your website, like a piece of information or other call-to-action button, above the fold.
Design a website so that it can meet the needs of the users on any device – laptops, mobile or tablets.
UX is a broad field but learning it is crucial to bring out the best performance.
At last, analyze bounce rates by carefully auditing your website. This metric is dependent on the context. Small factors such as font size, color or big factors like not understanding the user's needs can lead to low performance of your website. You shouldn't panic, which is a natural reaction. But quickly move into troubleshooting mode.